August 5th, 2010 No Comments » | POSTED BY ROB
Moneysupermarket.com Pocket Money iPhone App
Price comparison site Moneysupermarket.com have released their second iPhone app, although this one is unlikely to be as useful as their voucher app.
The Moneysupermarket.com Pocket Money iPhone app is essentially a tool for keeping up-to-date with all of the latest news posted on Moneysupermarket.com. Unlike their voucher app, it's less suited to the mobile format, and whilst a lot of the information provided by the app is useful, it's unlikely to be the sort of app you'll be going back to again and again.
App screenshots
The app is broken into 4 areas: news & tips,videos, deals and favourites.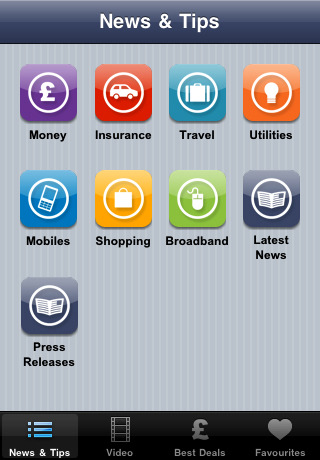 In the news & tips section you can read the latest information on a range of subjects, such as money, insurance, travel and shopping. Click a category, and you'll be presented with a list of articles: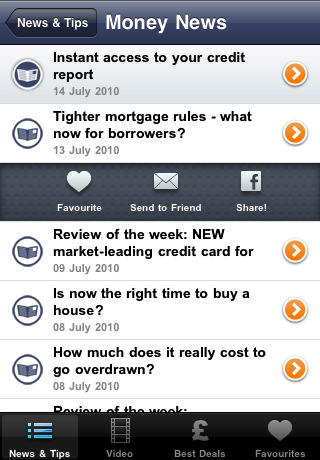 One useful feature is the ability to share the articles with friends via email or Facebook, or save them to your own list of facourites in the app for future reference.
The video tab does a similar thing (although broken down into less sub-categories), but of course presents you with a video commentary on a subject (you can also see some of their funny Omid Djalili ads too), whilst the best deals essentially just links you through to a specific page on the Moneysupermarket.com website. Not particularly useful nor mobile friendly.
Verdict
The app reminds me of a stripped down RSS feed reader, in that it gives you access to all of the latest news updates on Moneysupermarket.com, but I doubt whether anyone is that interested in having an app solely for that. I'd rather add their RSS feeds to a dedicated RSS reader such as MobileRSS.
I would however recommend you check out their voucher app which is much more useful for those looking for deals whilst out and about – something far more suited to an iPhone app that should regularly come in useful.
The good news is that both apps are available for free from iTunes, so there's no cost to try both of them out.
For more similar iPhone apps, take a look at the top personal finance app chart.
Related Posts