A new recruitment app, which is aiming to match up jobseekers with vacancies, much like Match.com matches up singles, has launched for the iPhone (and other iOS devices) in Europe and the US.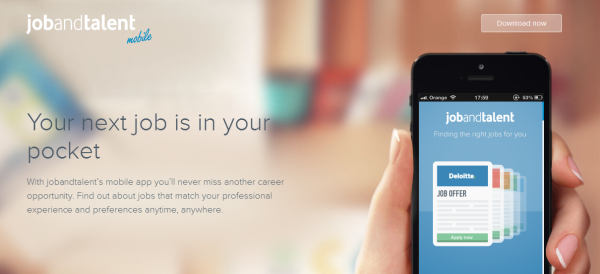 Jobandtalent is a Europe and US-wide mobile recruitment app that inverts the normal job search model – instead of having to actively search for keywords and positions, the app delivers users a personalised feed of suitable vacancies from across the internet. Users can also do manual searches.
Jobandtalent's linguistics-based algorithm trawls thousands jobs from across the web, selecting vacancies from sites such as Monster, Jobsite and CV Library, formatting them into an easy to browse homepage within the app. Whilst viewing the list of available jobs, the actions you take, such as favouriting or discarding jobs, helps to improve the accuracy and quality of future job suggestions.
For every job posted, you're shown if you have any contacts you might have at each company, through social network links, in much the same way that LinkedIn does with your connections on that site.
When new jobs are posted matching your profile, you'll receive a notification on your phone, in theory taking some of the hassle out of searching for jobs.
Jobandtalent claim that they look after the whole application process, when you decide on a vacancy that suits you.
The Jobandtalent app is available to download for free from the app store. Whilst the app itself is free, users do pay for each application made through the app (69p).