GigaOM has been taking a look at a startup company Dynamics, which designs chips that can fit into a card which is the same size and thickness as a traditional credit or debit card.
The chip allows card issuers to offer cards (or Card 2.o, as they're called by Dynamics) which can be programmed with security codes or allow the holder to access multiple accounts by pressing a tiny button on the card.
It's similar to the Visa Codesure card in that it's bringing new functionality to an ageing piece of technology. Of course, the big benefit is that there are thousands of card readers already in use. If mobile phones are to take off as a payment method, there's probably going to need to be the mass distribution of some other interface (such as near-field communication devices) to accept those payments, so it does make some sense, even if it does feel like a step backwards:
In a way, adapting to old infrastructure seems like a safe move that could ultimately hinder Dynamics from truly shaking up the market. Bringing new merchants online (which Square and Intuit are trying to do) or helping the "unbanked" make payments using their phone bills (like many startups and carriers are trying to do) seems a bit gutsier.
BankTech has more information on the card and the applications it can be made with. One application lets you select which account the funds will come from before you insert the card, whilst another allows you to hide the card number across the front of the card until you unlock it with a PIN number. It would appear from their website that it's either one application or the other on each card – it seems a shame that they can't both be installed on the same card.
Here's how the cards are intended to look: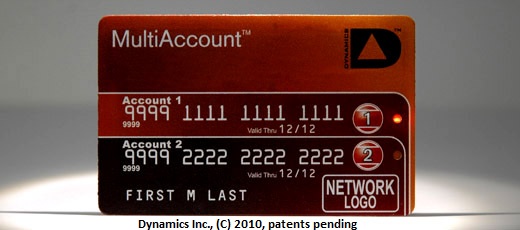 You can read more about Dynamics at their website.