Google has announced that it is to close Google Compare, its financial comparison service, at the end of March.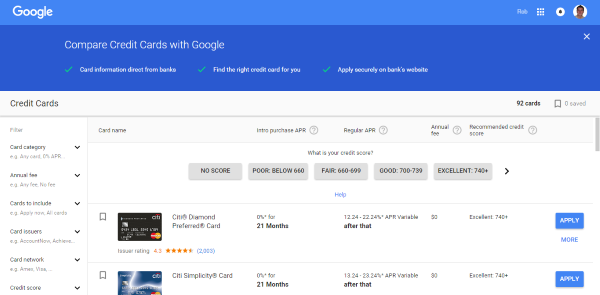 Over the last few years, Google has tried to integrate comparisons for financial products, such as credit cards, car insurance & mortgages, directly in to its search results, both in the UK and the US.
They did this by working with a number of providers and no doubt using the knowledge and technology they gained in the acquisition of BeatThatQuote in 2011, which was one of the leading comparison sites in the UK up until Google acquired it and shut it down.
However, it appears their efforts have not been particularly successful in generating revenue for Google, who have decided to concentrate their focus on developing its advertising platform, Adwords.
One of the big questions from their move in to financial comparisons was how their big financial Adwords advertisers, such as Moneysupermarket.com or Confused.com, would view Google providing their own results to searchers. Indeed, given Google's success in other areas, there were some predictions that Google could dominate financial comparisons in the years to come, and comparison sites would begin to suffer.
Well, 5 years on, and we have our answer. The comparison sites are still here, and their brands as strong as ever, whilst Google has failed to develop its financial comparison service. Along the way there has also been scrutiny from the Financial Conduct Authority in the UK, with the comparison sites complaining that Google was not competing fairly by having its own results at the top of its search results.
Of course, we needn't worry about Google. It is still often the first website visited by those looking to compare financial products, and they're still generating millions of pounds from Adwords click-throughs to the established comparison sites off the back of these visits.