goHenry – a digital banking solution that aims to make your kids smarter at managing money than you are –  raised over £2m in under 48 hours after launching on Crowdcube.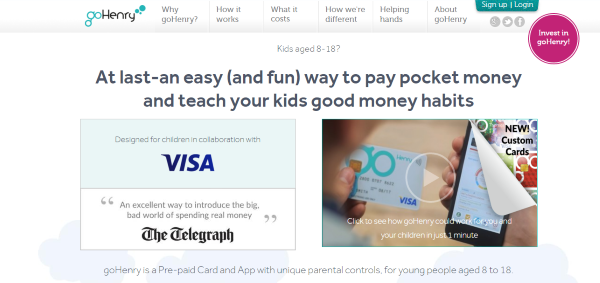 Founded by a group of parents, goHenry offers children and teens a pre-paid card and app with parental controls. These tools are designed to help young people learn good money habits whilst giving parents peace of mind and an easy way to manage pocket money and allowances.
The company currently has around 200,000 parents, relatives and children using the service. Each month, parents are signing up over 10,000 children. The company has seen revenue growth of 470% over the last two fiscal years.
Since goHenry was designed and developed in collaboration with families, crowdfunding was a natural choice and a way of allowing users to become part of the company and share in future success. Members enjoyed a 48-hour exclusive window to invest in goHenry over the weekend. On Monday April 25th, the round was extended to Crowdcube 250,000-strong community of investors.
"Being owned by parents has been key to our success. We all use goHenry with our own families, which is why we know we're building a product that children and their parents love. That's why we're really keen to give other parents, grandparents, aunties and uncles an opportunity to invest and be a part of goHenry's future too." Louise Hill, co-founder and COO
Despite exceeding the funding target of £2m already, goHenry is still open to investment for a remaining 19 days (as of the date of this post). The pitch page can be viewed here. Investments of this nature do carry risks to your capital and you should always invest aware.
The funds raised will be used to develop goHenry's product, to continue its growth in the UK – a market where approx 5 million children aged 8 to 18 receive pocket money – and to start its overseas expansion. An estimated further 20m children in Europe receive pocket money: each one of them will face a digital and cashless future. goHenry helps this generation to navigate this future safely.
"You can see from the significant growth that we have achieved, that goHenry is solving a real problem for families. As our economies become increasingly cashless, and as purchasing moves online, children find themselves without a currency and a means to manage their money in a digital age. Parents also need the tools to help their children learn good financial practices early on – to spend safely, to earn responsibly and to start good saving habits." Alex Zivoder, CEO of goHenry
The goHenry crowdfunding investment opportunity is currently open at:Â www.crowdcube.com/gohenry.