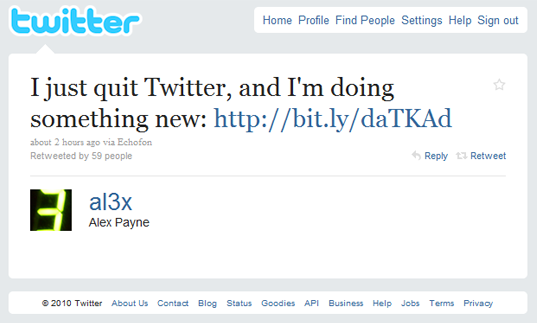 One of Twitter's developers, Alex Payne, has left the microblogging service to cofound a new US bank which aims to do things differently to the established banks.
Imagine a web-based bank that let you deposit checks by simply photographing them with its mobile app. It lets you make cash withdrawals from ATMs all over the country at no cost, sometimes even re-embursing you for fees you get charged by other companies. As a social web application, the bank offers you all kinds of recommendations and value-added services based on analyzing your private data.
BankSimple will launch to the public later in the year, with Payne as Chief Product & Technology Officer, and he says he wants to "build something that's simple, beautiful and works really, really well." Doesn't sound like a normal bank does it?
It will be interesting to see how his Twitter experience translates to the banking industry. The key hurdle will be gaining the trust of users trusting their money to a new entrant into the market.
Payne is of course not the first Twitter employee to look at shaking up the financial services industry. Co-founder Jack Dorsey is currently looking to take on the traditional payment giants with Square, an iPhone app that allows anyone to start accepting card payments.
Perhaps after their Twitter experience they want to go into an industry with an obvious montization strategy.