BillMonitor is a new online service that promises to compare UK mobile phone deals and show you the best contract for your mobile phone usage.
It claims to compare over 8.6 million deals available on the market, and the system they have developed can run through every call, text and byte of data on your bill, working out the cost on each tariff. By taking into account all the details such as free minutes, off-peak calling and charge limits, they can then show you the 12 tariffs that could save you the most money.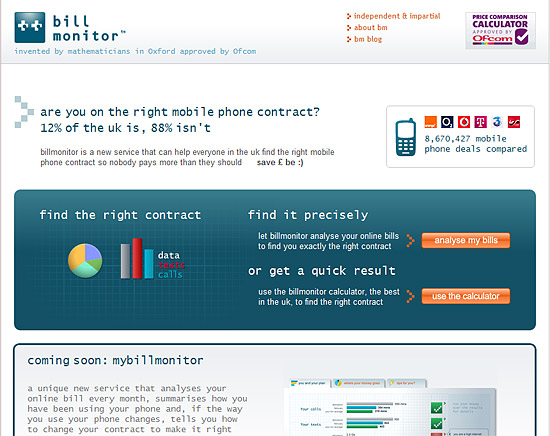 As well as that analysis, they also try to ensure you don't get a nasty shock on your bill when your usage changes from month to month:
Next month you might make a few more calls than usual; if we recommended a plan with just enough free minutes to cover your recent usage you might get stung with a huge bill. Bad idea! This is where the statistics developed by BillMonitor's science team come into play. We vary your last 3 months bill in a precise way – adding a little here, removing a little there and seeing if the cost changes. If the cost sky-rockets for a little more usage on a particular tariff that tariff gets a lower position in the results (and rightly so). The final cost we display is the average for all the different versions of your bill.
They're keen on pointing out the fact that it has been developed by "mathematicians in Oxford" and is the only Ofcom accredited mobile phone price comparison site, and the heavy use of stats and data analysis would back this up, and also helps to lend it an independent feel (a little like Google's results algorithm).
BillMonitor works in 2 ways. Whilst you can manually enter your requirements from a contract, you can also "hand over the keys" to your online mobile phone account, and it will download all of your call data from your bills, analyse your usage and make suggestions based on what it finds.
This "automatic bill analysis" is currently available for O2, Orange, T-Mobile and Vodaphone customers, with Three and Virgin promised for this year. Whilst handing over your username and password for your mobile phone account might feel awkward (you can read more about their security – last updated nearly 2 years ago?), it should give you a far better analysis than by adding your data manually.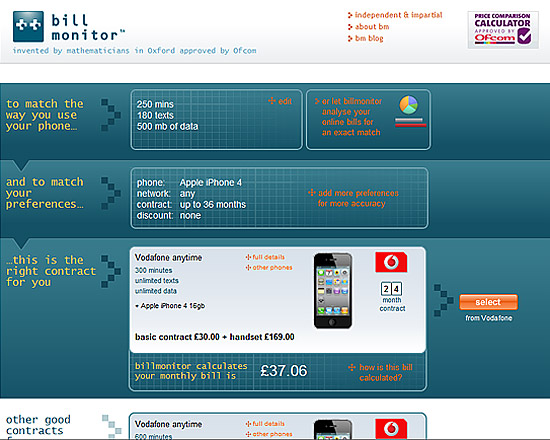 BillMonitor make money from any deals that are made through their site (affiliate commission), although this commission does not influence the results they give.
If you've tried out BillMonitor, let us know how you've got on in the comments below.
Update: Thanks to Andrew for stopping by and commenting on the security measures BillMonitor have in place:
"Billmonitor stores passwords using AES-256 encryption, a standard used by banks and governments which makes it impossible for anyone outside of the company to hack customers' data.

In addition, billmonitor assumes full responsibility for safeguarding user data. It does not share or provide personal user data to any third party. Period.

Billmonitor follows a robust data security policy and is happy to discuss the matter with any interested party.

Security measures are constantly reviewed and updated so customers can use billmonitor without worrying about misuse of their data.