Cashback website Quidco has released an iPhone app which promises personalised deals, exclusive discounts and the chance of earning in-store cashback.
Quidco is one of the biggest cashback websites, claiming to have more than 1.2million members, and with 3,000 retailers on board, there's a good chance that you could save money on your online purchases via going via Quidco.
By adding an iPhone app (with an Android app coming soon), they're looking to try and offer discounts and cashback in the offline world, by getting you to check in at certain locations or offering vouchers to redeem at the counter:
Check in -Visit a store and check in with the Quidco app to receive personalised deals, exclusive discounts or even a cash payment into your Quidco account. It appears that you don't even need to purchase anything in-store – for example, Quidco are offering 25p if you check in at a Carphone Warehouse store, or 20p for checking in at a Halfords.
In store cashback – Register your credit or debit card and find stores on the app offering in store cashback. Use that card to pay and you'll see a percentage of what you've spent paid back into your Quidco account. Examples: 2% cashback on purchases from Debenhams, or 4.5% cashback at Halfords.
Voucher codes and offers – Redeem voucher codes and offers in store by presenting the code or bar code displayed on the screen. The app will also show you a list of nearby deals.
The success of the app will be dependent on the amount of retailers taking part, and the level of discount or cashback on offer.
As well as those features, you can also use the app to keep up to date with your Quidco account. 'My Quidco' will show you your recent account activity and the amount due in your next payment. Use it to change your account details or register for in-store cashback by adding a payment card.
Screenshots
Local deals
Map view of the deals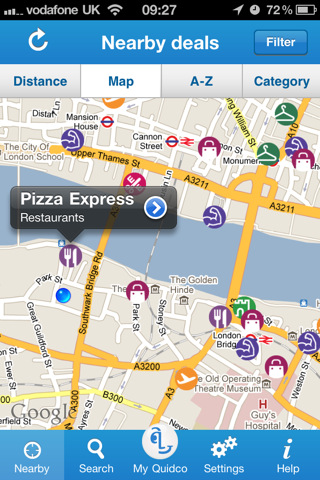 The Quidco app is available for free through iTunes. An Android version of the app is also due to be available soon.