Payday loan company Wonga caused quite a stir this afternoon when we were made aware of an article on their site which appeared to suggest they were actively targeting students to take out their 4000% APR loans.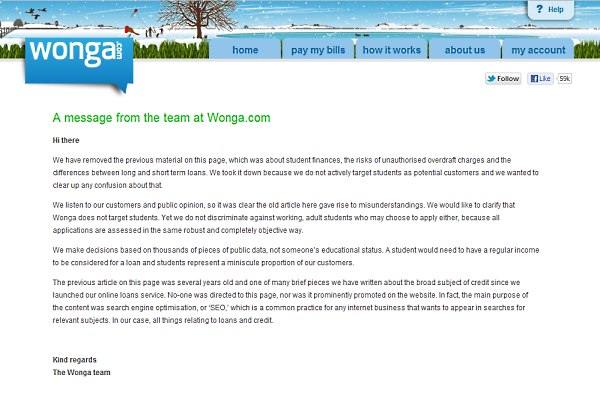 The offending page, which has now been replaced with a clarification by Wonga (above), suggested that students may wish to take out a payday loan in order to help finance their studies:
"A student loan is fine to help you pay for your university and living costs, but what about those times when you're waiting on money to come in and you need to buy or pay for something unexpected now? There's a totally new way of borrowing money to see you through until your next cheque and it's called Wonga. A Wonga loan is essentially a short-term loan that can help you manage your cash flow, without having to extend an overdraft or credit card even further, or get a large student loan."
Following its discovery, Martin Lewis tweeted: "Wonga you're a moral disgrace. You try the "we're payday loan good guys" yet this is nasty http://bit.ly/wYeuPD #WongaLeaveKidsAlone PLS RT"
Given Martin's follower numbers, the Twittersphere went crazy with condemnation for Wonga.
By 6.30 this evening, the offending page had been removed, replaced with a clarification from Wonga:
We have removed the previous material on this page, which was about student finances, the risks of unauthorised overdraft charges and the differences between long and short term loans. We took it down because we do not actively target students as potential customers and we wanted to clear up any confusion about that… We listen to our customers and public opinion, so it was clear the old article here gave rise to misunderstandings. We would like to clarify that Wonga does not target students. Yet we do not discriminate against working, adult students who may choose to apply either, because all applications are assessed in the same robust and completely objective way.
Fair enough I guess, they have a business model to stick to, but they then go on to say that the article is several years old (so what? It's still wrong, even if it was written a couple of years ago – there's no indication of how long the article has been on the site), plus it was written for search engine purposes, and that "no-one was directed to this page, nor was it prominently promoted on the website".
Well if it's written for the search engines, then someone will be directed there; students searching for payday loans, most likely, otherwise there's no point to it.
The payday loan industry has, probably quite rightly, got quite a poor reputation and is likely to be more highly regulated in the future.
There have been times in the past when I've though that payday loan companies were getting unnecessary stick; after all, they have to show their interest rates at ridiculous rates of APR because they're paid back over the short term, but are compared with loans paid back over a number of years, so they always look like sharks, yet in very certain circumstances, they might actually prove to be useful.
Wonga has until now managed to remain at the more friendly end of the payday loan spectrum, but that may have changed after today's revelations. As I tweeted at the time, perhaps this is their Ratners moment? Now the dust has settled somewhat, I doubt it will affect them that much in the eyes of the general public, but certainly for an hour or two this afternoon, Twitter gave its judgement on Wonga, and it was pretty vitriolic.
Addendum
As Wonga claimed, the page had been on the site for several years, and the Wayback Machine suggests that it was first seen back in June 2009Â (that might not be the date it was posted on the site, but it was the first time the Wayback Machine crawled the page). Clicking on 15th May 2011 on the Wayback Machine also shows you the original text of the page, useful now that it's gone from the Wonga site, and has been replaced with Wonga's clarification in Google's cache.
Wonga have also removed another page on their site relating to students, this time about student overdrafts. As of writing, it can still be seen in Google's cache, or when that disappears, there's copies on the Wayback Machine too.