MoneyDashboard have recently added a few new features to their site to help improve the management of the accounts you aggregate through their service.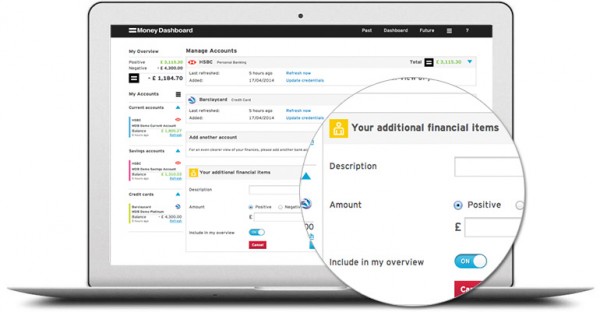 They're hoping that the following features will make it easier to manage your money through the site:
Add additional financial items – if you've got accounts which don't have online access, or assets you wish to add manually, such as your house price, then you can now enter them. You can edit and update them in the future as their values change. This is something I've done on Yodlee for a while; getting a recent house price from Zoopla, and updating my "home value" in a manual entry every year or so.
Colour code your dashboard – you can now choose a different colour for each of your accounts to make it easy to distinguish between them throughout the site. A clever tip from MoneyDashboard is to group all of your credit cards, savings and current accounts in different shades of the same colour – that way you'll not only be able to tell your accounts apart, you can mark similar accounts with similar colours.
More mobile functionality – The mobile app has been made more functional as you can now edit your accounts and login details, as well as adding and editing all of your new additional financial items as mentioned above.