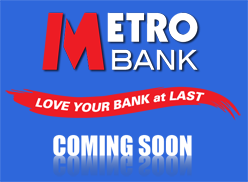 Metro Bank, which is threatening to shake-up the UK banking market by returning it to a more "customer-centric" business, has finally been granted a licence by the Financial Services Authority (FSA).
Metro aims to open two branches in central London in the next couple of months, although as we've said before on Money Watch, it's a shame that they appear reluctant to open branches outside the M25, proposing as many as 200 branches in Greater London within 10 years.
They've been waiting on the licence for 18 months, although they must have been confident of getting one, as they've been busy developing some branches in the capital whilst waiting; branches at One Southampton Row, Holborn, and on the corner of Cromwell Road and Earls Court Road in South Kensington will be the first to open followed by branches at Fulham Broadway and Borehamwood.
It is thought that Metro Bank will be the first new bank on the UK high street since the late 19th Century.
One other disappointing thing about the launch has been the lack of official online content. I've finally managed to track down the official website, but they've got a bit of money to spend if they want to secure the obvious domain name metrobank.co.uk, which is being offered for £50,000.