I've just taken my first proper look around the Mobank iPhone app, so here is my review of their service and the app.
Firstly, a little background. Mobank describes itself as "a new, exciting and free mobile banking service that works securely with your existing bank account allowing you to manage your money and pay for things using your iPhone or iPod touch". It's also now available on the Palm Pre, and an Android app can't be too far around the corner.
Whilst it's not really an account aggregation service (which is what I had originally thought it was), it does allow you to login to your bank account to see your balance and view your recent transactions.
The list of banks that Mobank is compatible with isn't massive, but it probably covers most major UK banks: Abbey, Bank of Ireland, Halifax, Bank of Scotland, Cahoot, Co-operative Bank, First Direct, HSBC, Intelligent Finance, Lloyds TSB (UK), Nationwide, NatWest (UK), RBS, The Woolwich.
Where Mobank differs from other tools is that it is aiming to move into mobile payments by storing your debit card details and allowing you to pay for items using your phone. Currently this works for iPhone and iPod touch users (and for the latter only when a wifi connection is available).
The list of retailers where this can be done is currently limited, although there are some big name stores, such as Waterstones, Interflora and GAME, and the number is steadily growing. Unfortunately, there is a 50p charge on each transaction for using this service. If you decide to use their pay-as-you-go option, they'll charge to £2.50 for every 5 transactions that you make (rather than leaving a trail of 50p transactions on your account), or for a limited time they're offering a lifetime "unlimited" amount of transactions for £15. Whichever option you choose, you'll still pay any normal booking and delivery charges on top. So how does the app work?
Registration
You'll first need to register with Mobank before doing anything. One of the security features used by Mobank is to tie your account details to your phone number, so this is one of the pieces of information you'll need to enter.
Also, pretty early in the process you'll be asked for details of a debit or credit card. This was actually the first time I realised that Mobank is for more than just getting your bank balance.
It seemed strange to have to enter some card details (and there was little explanation of why they were collecting these details in the app). I'd imagine this would stage would see a lot of people dropping out of registration.
If you do decide to persevere, entering your registration details on the app can be a little tedious, especially if you have fat fingers and keep making mistakes, as there's quite a lot of information to enter. You can also register online, if you prefer. You'll also have to select a PIN which you'll need at various points whilst using the app.
Adding a bank account
Once registered, you can then enter the details of the bank account that you wish to keep track of. You can currently only track one account (although if you have several accounts with the one bank, such as a joint account and your own account, you should be able to view all of these on the app).
You'll only need to enter these details once, and once done, the app will go off and download the data it needs from your bank.
View your bank account details
You can then login whenever you like to view your up-to-date account balance and a list of your recent transactions. But other than that, there's not much you can do with your bank account details – there's no categorisation of transactions to help you see where you're spending your money, or setup alerts for when your balance drops worryingly low, for example.
Shopping
As I mentioned, Mobank also allows you to pay for goods and services at some high-street retailers, and you can also shop through the app.
For example, you can buy chocolates through Thorntons, but the range of chocolates available appears to be limited, and the product photos are woefully small, with no zoom available. You'll also have to register with Thorntons if you want to buy.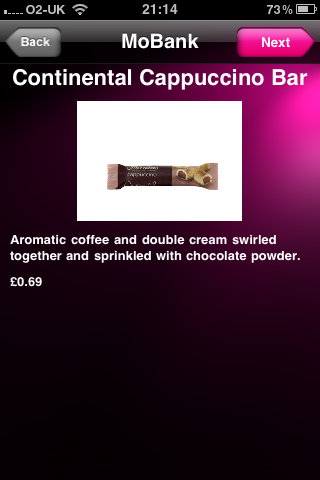 The Waterstones option allows you to see a list of bestsellers or to search for a book, and the shopping experience here is slightly better.
As Mobank add more and more retailers using these "widgets", they'll have to ensure that the shopping experience works well within their app or users probably won't bother to purchase items through there.
Screenshots
Here's the home screen:
These are the options when you fire up the app: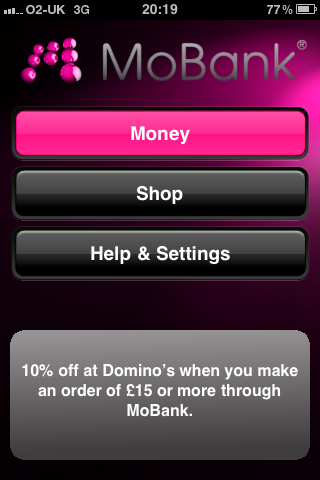 And to use the app, you'll need to enter your PIN using Mobank's special keyboard, with the layout changing each time: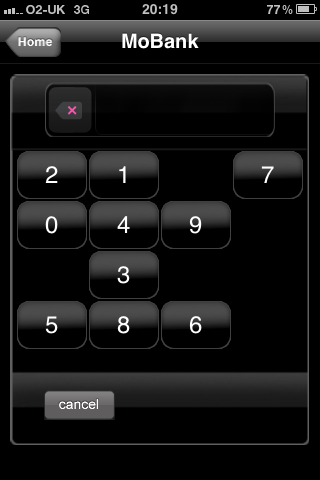 Choose a widget to start shopping:
Verdict
Once setup, Mobank is pretty easy to use, and it does allow you to keep an eye on your bank account without too much bother, but it feels like there's quite a bit missing, which could be because I'm comparing this to other account aggregation tools, which to be fair, it doesn't really compete with.
As for the shopping/mobile payment features, Mobank appears to be leading the way in this area, but the experience with each retailer will need to be optimised to make sure they work well, and I'd also hope that the cost per transaction could be reduced as it can add a high percentage to the cost of small items.
Have you use the Mobank iPhone app? Let us know what you think about it in the comments below.