Tesco is continuing to move into new markets, this weekend launching its new website selling used cars.
Following on from the unlikely moves into selling houses and buying gold, you can now buy a used car through Tesco, buying online and then delivered to your door.
All cars receive an RAC inspection test, and you'll even get 2,000 Clubcard points when you buy the car.
How it works
To find the car you're after on the Tesco website, either search for a make or model and narrow down your price range, or use Tesco's cool "lifestyle" search which is a more visual and friendly way of narrowing down the type of car you're looking for.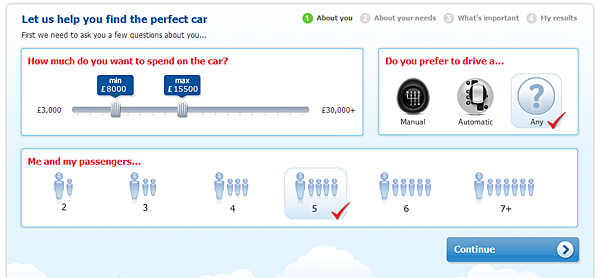 Once you've found the car for you, you pay Tesco £99 to secure it (and take it off the market), and you'll then get access to the full RAC and HPI reports, several photos of the car to view and a video of the RAC joyriding test driving your chosen vehicle.
If you're still interested at this point, you can have the car delivered (there is a charge for this) or you can collect it yourself. You then have 7 days to decide whether to keep the car or send it back.
If at any point you decide you don't want to buy  the car, your £99 will be refunded. You can of course get a loan to buy your car through Tesco Bank.
Tesco recently bought carsite.co.uk, which is no longer working, but they appear to be using their technology and business model to power tescocars.com.
Tesco explains where they're getting the cars from, and where savings are being made:
Cars are offered to you directly from the original owners who are banks, lease and fleet companies. By allowing you to buy direct from banks, lease and fleet companies we reduce the costs of disposal for these sellers and being online remove the costs of running a dealership. This means we can pass the savings on to you. Tesco Cars advertises up to 5,000 cars every week, fresh models are added to our website every day.
(Banks? So if they've come from Lloyds Bank, don't we all already own these cars?)
So would you buy a car online from Tesco without even seeing it in the flesh? And how do you feel about Tesco moving into yet another market? Let us know your thoughts in the comments below.