OnTrees is the latest website promising to provide a single view of all of your financial accounts. But can it help you to manage your money?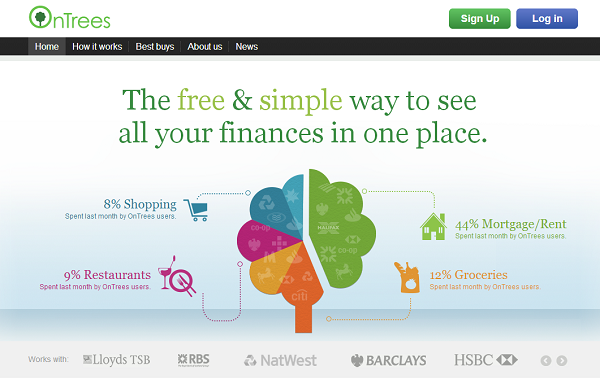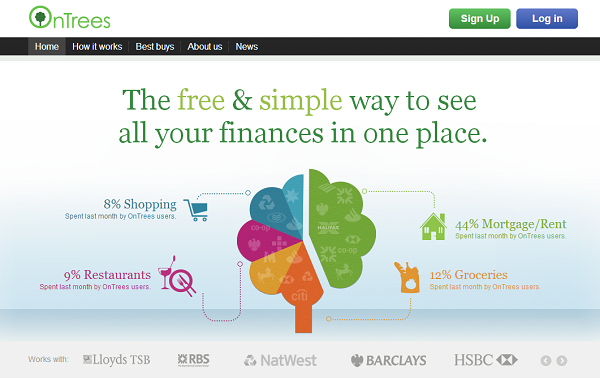 OnTrees is powered by Yodlee, a US-based account aggregation tool used by many similar aggregators both in the US and here in the UK, and which supports accounts from most of the major UK banks and building societies, as well as some lesser known names.
To sign up for an OnTrees account all you'll need is an email address and a password (best to pick a strong password, given the financial details that will be stored), or you can also use your Facebook or GMail account details, should you wish.
Once signed up, Â you're then able to add any accounts you wish to keep track of. OnTrees provides a list of common accounts, or you can use the search facility to find the account you wish to add.
When you've found your account, you'll then have to add your login details for each account, so that OnTrees can go off and get your transactions and balances. You'll only need to do this once, unless your login details change. Your bank account login details are stored by Yodlee, rather that OnTrees themselves, and if you're unsure about trusting these details to someone else, you'd best stop here.
It's probably also worth mentioning at this stage that OnTrees only provides a read-only view of your accounts. Should someone get into your OnTrees account, they can't move or withdraw money from your accounts.
It should only take a few moments to retrieve your transactions and balances, after which you'll be presented with an overview of your accounts, with the balances, recent transactions from all accounts, and a pie chart of your spending in various categories which OnTrees has automatically analysed. You can alter the timescale it shows, from 7, 30 or 90 days, and you can also hover over the segments to see the actual amounts spent.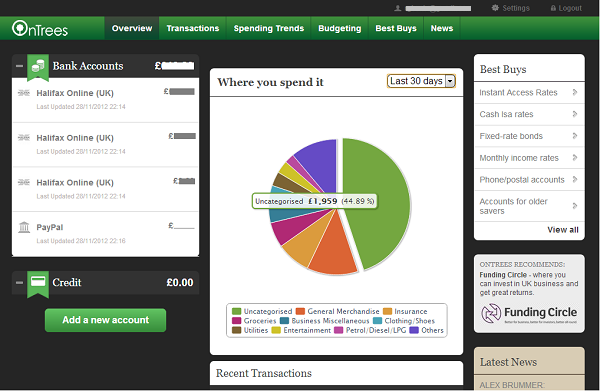 For more detailed analysis of transactions, click the Transactions tab in the main navigation, and you can view all of your transactions, or use the filters to define which accounts, categories, and time period you wish to see transactions for.
OnTrees does a decent job of categorising your transactions, but you may see some inaccuracies, and you can reasonably simply change categories, and add your own if necessary. The help section suggests that when you change a transaction's category, it can be applied to all similar transactions, or just the one, but I wasn't sure how to do this.
The Spending Trends tab shows you graphs of your spending, which again can be filtered by account or category etc.
Finally, we come to the Budgeting tab. Here, you can actually begin to make a difference to your finances by trying to stay within a budget for each spending category. There's a useful traffic light system to show you how well you're doing compared to your budget:
You can set up email alerts to warn you when you're near to going over a category budget. It wouldn't be difficult for OnTrees to add in text alerts in the future too. As I mentioned above, it's all good and well knowing what you've spent in the past, but the budgeting tool should help to curb your spending in the future.
If that's not enough, there's also a free OnTrees iPhone app (an Android app is coming soon), so that you can monitor all of your accounts on the go (in fact, you don't need to use the desktop website, if you don't want to, all of the setup can be done from within the app).
The app is secured with a PIN (using a clever keypad which moves the numbers about, making it even more difficult for anyone to steal your PIN), and allows you to check balances and transactions, and when you rotate your phone, you can even get a pie chart of your spending by category. Here are some screenshots of the iPhone app.
The summary of your account balances:
The login screen: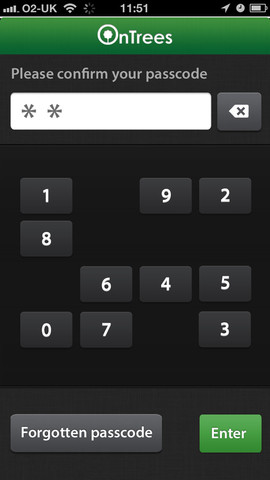 A breakdown of the transactions for an account: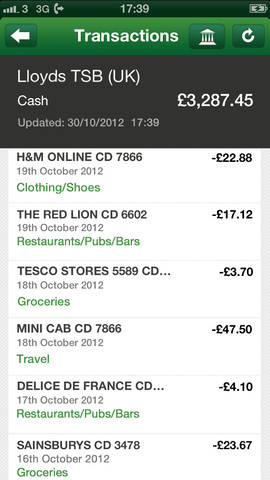 Rotate your phone, and you'll get a pie chart of your spending:
Verdict
I've tried out quite a few different aggregators over the last few years, and up until now I have always ended up back at the Yodlee Moneycentre. But I think that OnTrees may now become my aggregator of choice; the website is simple to use, has good categorisation and useful alerts, and is complimented by an easy to use iPhone app. Overall, it's a very slick tool.
We;d love to hear your thoughts on OnTrees. If you've tried it out, let us know what you think of it in the comments below.