Mondo, which is a new start-up hoping to turn its app into a fully-fledged bank later this year, is set to launch a crowdfunding drive to raise £1 million to help with their launch.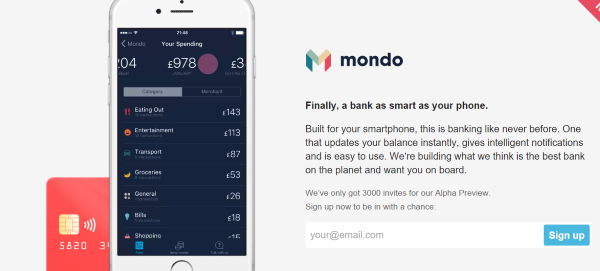 After a year of developing and testing their app, together with a pre-paid Mastercard, they're currently around halfway through the process of applying for a full banking licence, which will allow them to start taking deposits and to start lending. Mondo are aiming to provide their customers with a brand-new banking experience, by providing, for example, quick phone-based account opening, push notifications the second you pay for anything, and an always up-to-date account balance.
The investment will open to the public on Tuesday 1st March on Crowdcube.com. If you pre-register your email now, you'll get exclusive access to the investment the day before, on the morning of Monday 29th February.
You can invest as little as £10, but investments are capped at £1000 per person to give everyone a fair shot.
Along with owning shares in the bank, investors will get an exclusive "Mondo Investor" Mastercard® Prepaid Debit card, and access to the iPhone app, skipping the 30,000 waiting list.
Here's Mondo's pitch video, which explains more about their mission to build a new type of bank:
Naturally, an investment such as this carries risks to your capital. Please make sure you understand the risks before making an investment; these can be found on the Crowdcube website.