That's right, even the unemployed have an iPhone app dedicated to them, thanks to an application developed by the Government.
The JobCentrePlus app allows job seekers to search and locate relevant jobs from the Government's job centre database.
Unaffordable
Unsurprisingly though, the decision to spend taxpayers money on this app has come in for some criticism, with charities suggesting that most job centre visitors are unlikely to be able to afford the "Jesus phone".
"The proposal is a waste of money, as the majority of people who need to go to the job centre cannot afford an iPhone – which costs hundreds of pounds to buy or alternatively comes with an expensive monthly phone tariff." (Rob Tolan, Elizabeth Finn Care)
A spokesman for the Department for Work and Pensions (DWP) responded:
"The application provides access to our jobs database and it does not mean you cannot access this without an iPhone. The database is also available on the web and via computers located in Job Centres."
To be fair to the DWP, the iPhone app part of this project was probably not the expensive bit – pulling together the database of jobs and distributing it through web, mobile etc would not be a minor task in itself, and the app part is probably more about getting some PR by jumping on the iPhone bandwagon than anything else.
It's worth noting that a similar application is also available for Android, although not much fuss has been made about that. Are Android phones much more affordable than iPhones?
Disregarding all of that, as an app, it's actually pretty slick, without really having any brilliant functionality.
Features
Here's what Directgov has to say about it:
the app can be used by jobseekers in England, Wales and Scotland
the app is free to download and available to anyone who uses an iPhone, an iPod touch, or a Google Android phone
last month more than 60,000 people used web browsers on smart phones to visit the JCP jobsearch site – now you can download the app for an interface that is easier and quicker to use on your phone
the JCP database is the largest in the UK – with over 10,000 new vacancies every working day
more than 30 per cent of UK employers advertise their jobs with JCP
Once the app has opened, you can do a keyword search for jobs in a specific area, which can be typed in or picked up by your GPS signal.
Here's what shows after searching for "plumber" jobs in Wolverhampton. It's the first thing that came into my head, ok? Not very imaginative, I know.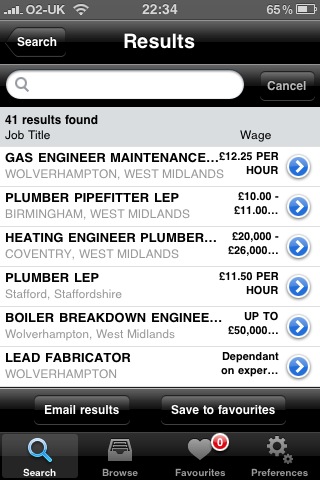 Once you've selected a job, and found out more details about it, you can see exactly where it is on a map:
Applying for jobs
Unfortunately, there is no way to apply for the jobs through the app – you'll have to phone up to do that. As well as searching by keyword, you can browse all jobs within a certain category, and you can save the details of jobs you're interested in to come back to later, presumably when you've finished in the pub.
jobcentreplus is available now through iTunes. It's also available for Android.