As we alluded to earlier in the week, PayPal has announced a new tool to enable small businesses to take card payments using just a mobile phone.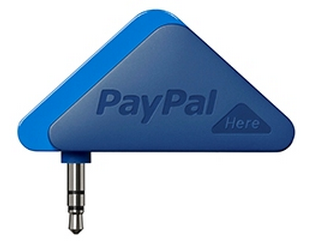 PayPal Here is the "first global mobile payment solution" that allows small businesses to accept almost any form of payment. Businesses can accept cards either by swiping them through the new, fully-encrypted triangular "dongle" attached to a smartphone, or by using the camera on a phone to scan and process it (thanks to a partnership with Card.io).
PayPal Here costs a flat rate of 2.7% for card swipes (undercutting Square's 2.75%) and PayPal payments. Merchants are also given a business debit card for quick access to their funds and 1% cash back on eligible purchases.
Here's PayPal Here in action:
PayPal Here is currently only available to a select group of businesses in the US, Canada, Australia and Hong Kong, opening up to all businesses in those countries next month. There's currently no launch date for the UK, but you can register your interest  to find out when it launches.
There's also no detail available on the phone platforms supported, but expect iPhone, Android and Windows Phones versions.
There's loads of more coverage of PayPal Here across the web:
The focus has largely been on how it compares with Square. Its one big USP is the fact that it's a far better known brand (albeit with some reputation problems), which should help adoption with both merchants and their customers.
Plus, with neither Square (nor similar service iZettle) currently available in the UK, if PayPal Here can be quicker to market, it could prevent them ever getting a foothold here.
What are your thoughts? Would you use PayPal Here either as a business or when paying for goods and services? Let us know in the comments below.