Price comparison site MoneySupermarket.com has released an app that allows you to search for car insurance on your iPhone, iPod Touch or iPad.
The free app allows you to start a new search for car insurance or continue an existing search – we'd recommend the latter, given the amount of details you'll need to enter using your mobile to get your search started. The app is promoted with the line "renew your car insurance with just 3 taps" – as long as you already have a MoneySupermarket account.
The MoneySupermarket Car Insurance app promises to let you:
Compare thousands of quotes from a huge range of car insurance providers
'Click to call' any provider, so you can talk through your quote on the phone
Save your details and remember where you are in the application process – useful if your iPhone is out of range of 3G or Wi-Fi signal
Hopefully save you money on your car insurance quote – even if you're still out and about at the car dealership choosing your next set of wheels!
Like most of what MoneySupermarket do, the app is pretty slick and does a good job of providing car insurance quotes. But you do wonder whether searching for car insurance is really appropriate for a smartphone app. It's true that it could be used whilst out shopping for cars, but other than that, it's simpler to sit at a computer and enter your personal details and view the details of the quotes returned.
It's also unlikely that you'll need it to use it regularly, which seems to me to be one of the main advantages of an app over accessing the web on a desktop PC. Once you've used it, it'll probably be another year before you need it again. What are the chances it will still be on your phone by then?
Screenshots
App homepage: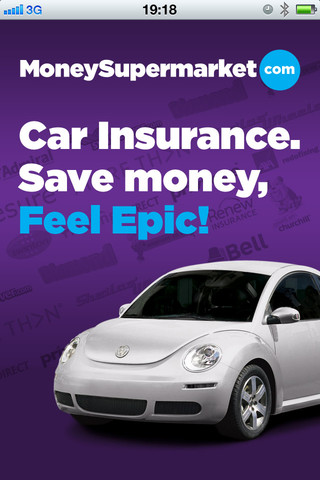 Quote details:
Individual quote information: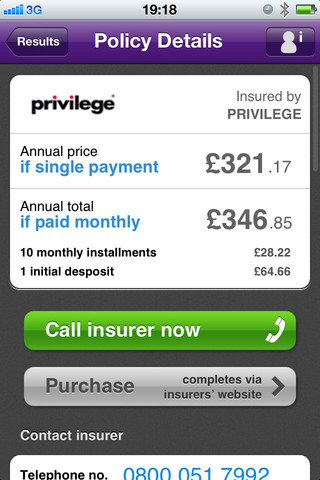 Details of the car you're insuring: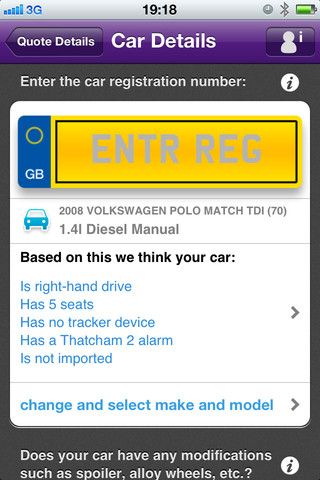 View more iPhone personal finance apps.