MoneyVista is a new service designed to help you create your own financial plan. By entering information about your savings, investments, property, income and outgoings, you'll get to see your current financial position and from there, promises to help you achieve your financial goals.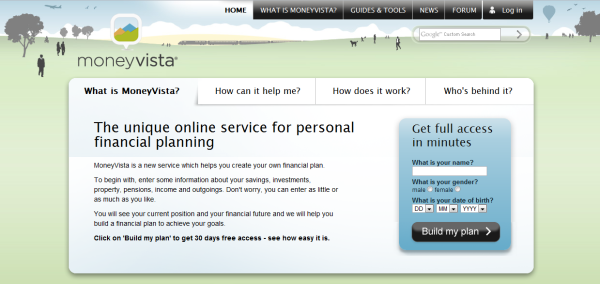 We've taken an initial look at MoneyVista, and the first thing to say about it is that it's a great looking, interactive tool.
To get the most out of it, you will need to be prepared to spend a fair amount of time setting it up (and indeed, it could take a long time to realise the value of such a tool, given that it is trying to help you plan for events which might be many years away). You'll be helped through the process by an intuitive interface, and it won't take you too long to get an idea of where your finances are currently at.
Here's an example of the interactive timeline you're presented with once you've filled in your initial details:
Once you've got an idea of where your finances currently stand, you're then asked to define your financial goals. These could be buying a property or saving to send your kids to University. Once you've added your goals, you'll be reminded by MoneyVista if, for example, you need to alter the amount you're saving, in order to achieve your goal.
MoneyVista will also help you set and manage a budget, together with several other features which could prove useful as your financial situation changes or as your life progresses, such as at retirement, or when you require protection and tax planning. View a full list of features.
It's worth saying at this point that MoneyVista isn't a personal finance management (PFM) tool like others, such as MoneyDashboard or  MoneyToolkit, which aggregate all of your online accounts. MoneyVista relies more on your input, rather than feeds from your various financial accounts, and is more of a tool for planning your finances well into the future, rather than simply allowing you to see your money coming and going each month. It's also not a replacement for the services of a qualified financial adviser, but may be more suitable for those who are happy enough to look after their own finances and don't have a particularly complicated financial situation.
Pricing
MoneyVista is a paid-for service, which could put some casual users off, especially as it might not be able to demonstrate a benefit until financial goals are achieved, which could be several years in the future. Time will tell whether users are prepared to pay for tools such as this.
Once your one month free trial has expired, to continue using the full service you'll have to subscribe, with charges currently £8 per month, £20 per quarter or £75 per year. There's a comprehensive guide to what paying subscribers get on the MoneyVista pricing and features page. To be in with a chance of winning 12 months free, see our competition below.
Security
MoneyVista requires you to enter some quite sensitive data, although this doesn't include online account details, like most PFM tools do, and you can remain largely anonymous on the site. Nevertheless, MoneyVista take steps to ensure that your data is kept secure. MoneyVista is also owned by Royal London, which comprises a group of well-established financial businesses, such as Bright Grey and Scottish Provident.
MoneyVista will not try to sell you any products, and does not advertise products or sell your details on to others.
Competition
If you'd like the chance to try out MoneyVista for free, they've kindly offered one Money Watch reader the chance to win a free 12-month subscription to the service (worth £75), plus the winner will also receive £100 John Lewis vouchers, which is a brilliant prize. There are three ways to enter the competition:
Leave a comment below (make sure you enter a valid email address so we can get in touch with you if you're the lucky winner).
Retweet the following Tweet:


RT for chance to win free subscription to #MoneyVista & £100 John Lewis vouchers bit.ly/J6JVQs

— Rob Lewis (@moneywatch) April 16, 2012
You may enter using any of the methods above, and you may use more than one method to increase your chances of winning, but only one entry will be allowed per person per method. The winner will be chosen at random from all of the entries received. The judges decision is final, and there is no cash alternative to the prizes. Open to UK residents only. The competition closes on 30th April 2012. We'll announce the winner here on Money Watch shortly after that date. Good luck!