HSBC have finally released their long awaited app for the iPhone, the Fast Balance app.
The app is now available for free from iTunes, with Blackberry and Android versions also in the pipeline. It can be used with all HSBC Bank current accounts where HSBC have provided you with a debit card.
As we suggested in a previous post about the HSBC Fast Balance App, its functionality appears to be quite limited. Here's what it can do:
Check your balance
View your six latest transactions
Top-up your mobile phone
And er… that's it.
Whilst this might be enough for some people, I could imagine there will be many who would like to see more account history and be able to make transactions from the app, but at least it's a start.
Once you've downloaded HSBC Fast Balance and registered your details, all you need do to see your balances is click the HSBC Fast Balance icon, enter your passcode and then select 'Balance' from the menu. You don't have to log on to internet banking or use your Secure Key.
How to register
Download HSBC Fast Balance and accept the terms and conditions
Enter your details (you'll need your account information as well as your mobile phone number)
Enter your debit card details to link the account to the app.
When prompted, enter the activation code we send to your iPhone
Create a passcode of between 5 to 8 digits.
Screenshots
The home screen:
Options screen:
Check your HSBC balance: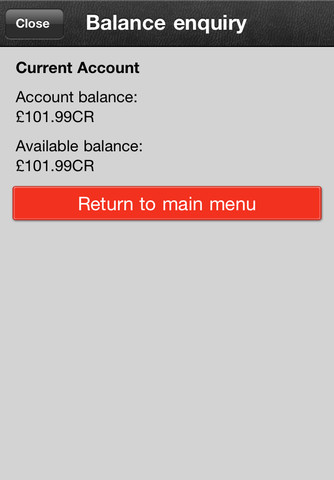 View your recent transactions:
The iPhone version of the app can be downloaded now from iTunes. Let us know what you think of the app in the comments below. Does it do all that you need of a mobile banking app? If not, what would you like to see HSBC add?