Google has finally launched its property search engine, "Real Estate Search", so let's take a look at how it works.
To start with, the service is available within Google Maps, either by clicking on "Show search options" next to the search bar in Maps and selecting "Properties", or by searching using certain keywords, such as "buy houses" along with the name of a town or postcode.
The feature is not yet directly shown on a normal Google search, as far as I can see, although they are plugging it in the sponsored listings: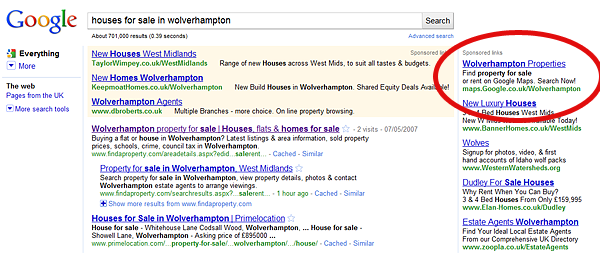 .
And here's how the results look following the initial search:
Each dot represents a property listing, and you can scroll and zoom the map as with normal Google Maps.
You can also use the very basic filtering offered by the service, which gives you the chance to filter by type of property (detached, semi etc), number of bedrooms and bathrooms. Clicking on these filters refreshes the map.
The service currently shows properties provided by the following suppliers:
Countrywide
Zoopla
Spicer Haart
Bairstow Eves
Think Property
Property Finder
Vebra
Bridgfords
Sotherby's International
The details of a few of the properties are shown on the left hand side, and by clicking on a dot on the map, you get a popup showing more details, plus the chance to clickthrough and view photos of the property, more details about it and contact details for the estate agent, plus a link to view the property on the provider's site: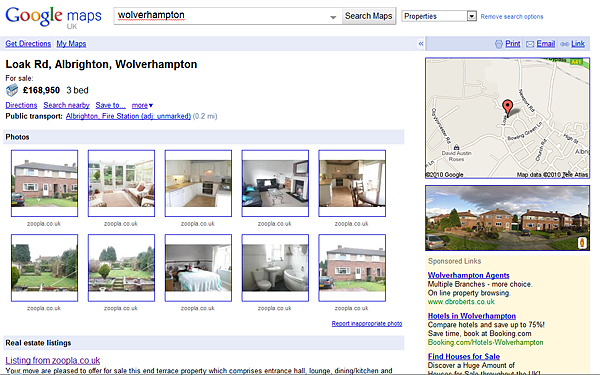 One of the nicer touches is the ability to view the property and surrounding area using Google Street View – a great way of getting a feel for the area if you've never driven down the street the property's on, and another way of filtering out unsuitable homes.
Verdict
Overall, I can see this potentially being a good starting point for buyers and renters looking for properties, but the likes of Rightmove and the other property portals probably aren't overly concerned at this stage, as they have far more functionality when it comes to the filtering of properties, as well as many other househunting tools. Google's Real Estate Search is also presented in a typically Google layout, being functional if not massively appealing.
However, I would expect most of the portals to provide Google with properties eventually, and they'll then benefit from the traffic that Google will inevitably send them, plus it would be odd not to want your properties featured on the most used search engine.
It's a natural extension to Google's brilliant mapping tools, but don't expect it to put any estate agents out of business in its current form. Agents would worry when property owners were able to use Google Property Search to advertise their own homes for sale or rent, but this is likely to happen (and has already started, with the likes of Tepilo) through the property portals.